Cooling Elevated Pet Bed – Dog moisture-proof removable washable stack dog bed – Oxford cloth camp bed
The Cooling Elevated Pet Bed is an innovative, easy-to-install pet bed that allows you to keep animals cool and cozy in the comfort of your home.
Elevated Pet Bed is designed for all types of pets. With the patented design and in-built vibration system to stop airbags from blowing up. It's also safe for animals of different ages.
Softer and warmer, the Cooling Elevated Pet Bed allows your pet to stay comfortably elevated without worrying about inconveniences like cold fingers in the winter. Extend your pet's comfort on a warm day or cool off in the summer with their favorite spots.
Name: Pet Breathing Force Bed
Material: Oxford cloth, painted metal tube, four-way tube

Product Category: Pet bed

Features: moisture-proof, breathable

Applicable type: pet general
Size:
S: 56*43*18cm,

M: 81*63.5*18cm,

L: 107*76*18cm,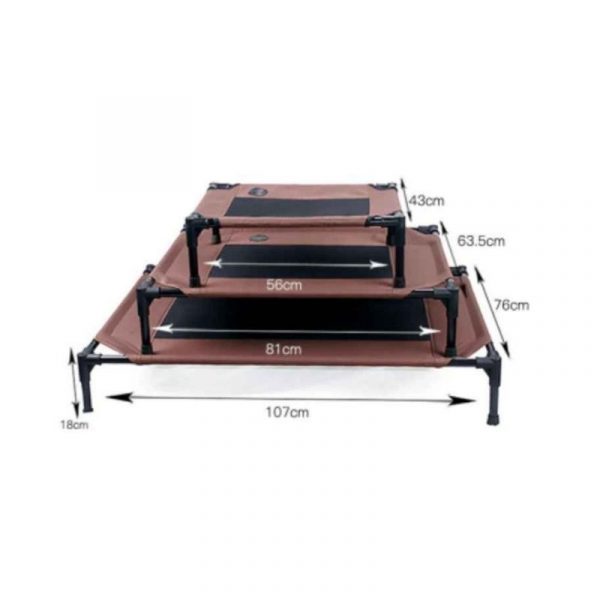 Need affordable cooling elevated pet bed? Check out our new collection for more.
FAQs
Do I need to set up an account to place an order?


You can shop at

womanfeeling,

either by registering with us or using a guest account to checkout.

How do I make an account?


Simply click Create an Account, enter the required details & submit the form.

How do I select items to purchase?


As you browse through the woman feeling Website, click on the Add to Cart button for the items that you wish to purchase.

How do I place an order on Womanfeeling Website?


Once your desired item is added to the shopping cart just click on the shopping cart icon and select proceed to checkout, you can either checkout as a Guest or you can sign up to get the latest updates. Then you have to provide your personal details, select the payment method and then select the place order button. Then you will receive a verification code, please enter it in a given tab, so your order can be verified.

What if the product is Out of Stock?


If the Product is shown out of stock. Please

contact us

Read more

about

Womanfeeling