Pet Travel Backpack Online
The Pet Travel Backpack features double doors and may also be used as a removable cattery and kennel. The backpack is strong and does not collapse thanks to reinforced brackets and padding. A can of friskies or a bag of snacks fits perfectly in the side pouches.
It is a term that refers to the process of creating a product that is When you're ready to set the pet down, simply fold up your bag. This pet backpack's unique material makes it especially light and sturdy. The backpack has sweat-absorbing padding on the back, waist, and shoulders, which helps it suit the human body better and relieves pressure on the shoulders, back, and waist.
Comfortable and breathable
A three-face mesh design is used on the pet backpack. The distinctive gauze material in the backpack allows pets to breathe freely, preventing insect bites and sun exposure. A well-ventilated design allows for ideal ventilation and allows you to keep an eye on your pet. The backpack is very simple to clean and dry.
Our luxury pet backpack is scratch-resistant and robust, making it ideal for travel. Perfect for daily walk and weekend adventure, it will be a great choose for your young puppies or small dogs who like or need to be carried.
This Pet box keeps your pet close. Click the buckle strap into place and start walking, biking, or shopping! Carry your pet everywhere! Wear it on your back or chest and adjust the length for a comfortable fit. Breathable mesh keeps your dog cool and comfortable.
Package: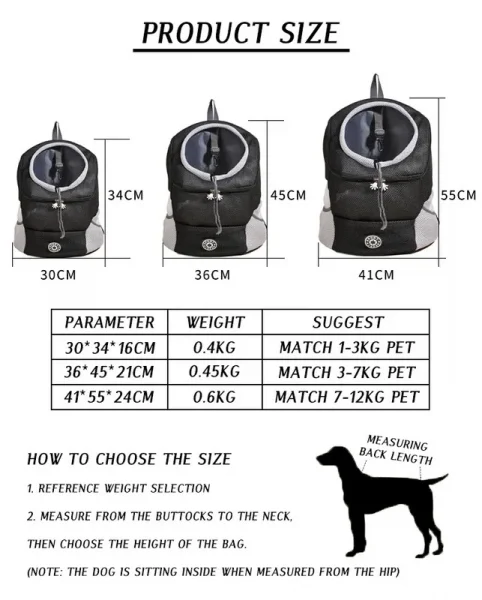 Need more affordable products like this one? Check out our new collection for more.
FAQs
Do I need to set up an account to place an order?
You can shop at womanfeeling, either by registering with us or using a guest account to checkout.
How do I make an account?
Simply click Create an Account, enter the required details & submit the form.
How do I select items to purchase?
As you browse through the womanfeeling Website, click on the Add to Cart button for the items that you wish to purchase.
How do I place an order on Womanfeeling Website?
Once your desired item is added to the shopping cart just click on the shopping cart icon and select proceed to checkout, you can either checkout as a Guest or you can sign up to get the latest updates. Then you have to provide your personal details, select the payment method and then select the place order button. Then you will receive a verification code, please enter it in a given tab, so your order can be verified.
What if the product is Out of Stock?
If the Product is shown out of stock. Please contact us
Read more about Womanfeeling